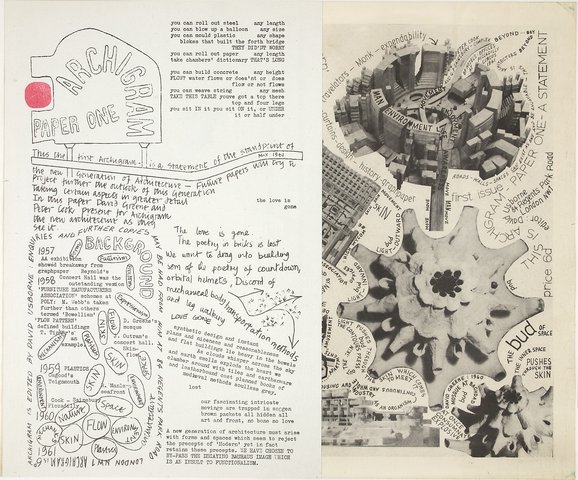 Cover in Archigram No. 1 (1961)
The poetry in brick is lost.
We want to drag into building some of the poetry of
countdown, orbital helmets.
discord of mechanical body transportation methods
our fascinating intricate
movings are trapped in soggen
brown packets all hidden all
art and front, no bone no love.
A new generation of architecture must arise
with forms and spaces which seems to reject
the precepts of 'Modern' yet in fact
retains these precepts. WE HAVE CHOSEN TO
BYPASS THE DECAYING BAUHAUS IMAGE
WHICH IS AN INSULT TO FUNCTIONALISM.
You can roll out steel any length
You can blow up a balloon any size
You can mould plastic any shape
blokes that built the forth bridge
You can roll out paper any length
take Cambers' dictionary THAT'S LONG
You can build concrete any height
FLOW? water flows or doesn't or does
YOU CAN WEAVE STRING any mesh
TAKE THIS TABLE you've got a top there
you can sit IN it you sit ON it, UNDER it or half under
A poem in Archigram 1 by David Greene.